Stairville MH-110 Wash LED Moving Head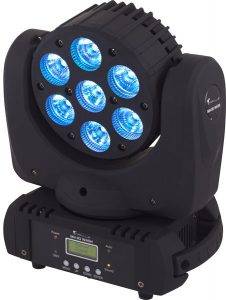 Light source: 7 x 10 W RGBW CREE LED
Dispersion: 15°
Light power: 17,000 Lux @ 1 m
Dimmer: Linear 0-100%
Shutter: Electronic
Strobe effect
Turning: PAN 630°, TILT 220°
Control: DMX-512 (9 or 14 DMX channels), Sound Active (controlled by music) or Master/Slave
Digital display with 4 buttons for adjusting all features
Installation: Quick-lock Omega brackets
DMX input and output: 3-Pin XLR
Power supply/power: 100 – 240 V, 50 Hz / 60 Hz
Max. power consumption: 108 W
Cooling fan
Dimensions (H x W x D): 320 x 260 x 148 mm
Weight: 5.9 kg
Leje/pr weekend – 350 kr.pr stk.

Showtec Phantom 50 LED Spot MKI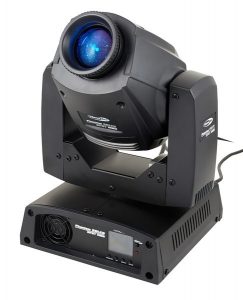 With a white 50 W LED
Rotating gobos
3-Facet prism
7 Gobos with shake effect
Nine Dichros are identical to those of the smaller model 25 LED Spot and can be easily combined
The 50 LED Spot can be used in a master / slave configuration as a master for the 25 LED Spot
Two setting options: Advanced thirteen channels and Basic with eight channels
One-sided clamp for easy operation when installed in truss systems
Output Power: Lux @ 1m: 20,900
Dispersion pattern: 17°
Light source: 1 x 50W LED, white
Input voltage: 100-240 V AC
Power consumption: Max. 93 W at full power
LED drive current: 2A
Colourful LCD display
Control protocol: DMX512
Control variant: Advanced 13CH / 8CH Basic
Dimmer: 0 – 100%
Strobe: 0-20 Hz
Manual focus
3-Facet prism
Pan: 540°
Tilt: 270°
Pan / Tilt resolution: 16 Bit
Special feature: Blackout while pan / tilt movement
Adjustable pan & tilt range of 540°/360°/180°
Reverse Pan / Tilt movement
Gobo: 2 glass + 5 metal gobos (interchangeable)
Gobo functions: Gobo-flow effect, Gobo shake effect
Rotation: In both directions
Inner diameter gobos: 20 mm
Outer diameter gobos: 24 mm
Colours: 8 Dichroic filters + White
Colour features: Split colours, Rainbow flow effect
Housing: Metal and flame-resistant plastic
Connections: XLR data input / output
IEC Mains input
Dimensions (W x D x H): 210 x 225 x 340 mm
Weight: 5.6 kg
Colour: Black
Certificates: CE
Max. ambient temp.: 40° C
Leje/pr weekend – 400 kr.pr stk.